"Dearest Dr. Kim,
The road to recovery started on August 22, 2009 but on August 21st I had every thing I needed in the pre-op world for my neck surgery. It started with blood work, MRI's, fitting of the neck brace etc. The only thing missing was a chance at trying out the decompression table at Dr. Kimberly Walters office. When I woke up Saturday there was a very slight improvement in my pain but I decided the improvement was enough to call Dr. Kim to help me make a decision whether or not to go through with surgery. She mentioned the decompression table again and took the time to discuss with my surgeon what this therapy entailed. They both agreed to have me try it. So the recovery began and what a success. It started out slow and like most everything in life that we want and expect quick fixes for, Dr. Kim and Maegan never stopped encouraging me to stick with it. It was like one day you woke up and your body had a chat with you that the procedure was in charge. As of today, November 24, 2009, I am pain free. The pain I had that eventually put me in the ER is something I will never forget. Don't let it get that far. I am thrilled with my decision to listen to Dr. Kim and respect the fact that she was willing to discuss my condition with the surgeon and compare notes before encouraging me not to go through with the surgery. NOW THAT IS A GOOD AND HONEST DOCTOR.
On a personal note I have known Dr. Kim since 1977. Her smile and that well known giggle tells you exactly what she is all about. Compassionate, loving, caring, down to earth and above all a true friend that is always there for you. Put the friendship aside and you still have the same person, only this time as Dr. as well. You, and your staff, are the best.
PS: Keep in mind that
" HEALTH AND WELLNESS
IS THEIR FIRST PRIORITY" at Sarasota
Chiropractic Center. They'll do the work for
you when you make routine check ups a part
of your life. That is the key to staying in the
recovered mode.
Most Sincerely With Love & Forever Gratitude,
Susan Schmitt ('Susie')
November 24, 2009


"I was referred to Sarasota Chiropractic Centre by a neighbor. My problem being a great deal of sciatic leg pain and total numbness in my toes. While reviewing my case, Dr. Walters determined I should try the Traction/Decompression Table. I am happy to report that I am totally pain free after suffering for a least four months prior to Dr. Walters becoming involved in my treatment. Thanks and continue to provide your excellent care for others."
Rod B. Sarasota, FL and Van Wert, OH


"I have been a patient of Dr. Walters for the past three years. During this time, I have struggled with one injury after another and I am very grateful to have had Dr. Walters come to my rescue. It is very apparent that she absolutely cares with her whole heart for the well-being of her patients. She goes the extra mile without being asked, both as a doctor and as a friend who cares. I also appreciate that she has a talented staff of licensed and experienced therapists who can give deep tissue and neuromuscular massages to help with my treatment plan. Last but definitely not least, is Char who is always cheerful, caring and a fun person to talk with every time I call. I am very blessed to have found Dr. Walters and her staff of professionals."
Carol T., Sarasota, FL


"We were delighted to have found Dr. Walters and her staff at Sarasota Chiropractic Centre. We have relied on her experience and expertise to do our pre-employment exams for all of our new job applicants. After interviewing other clinics, we understand first hand why Dr. Walters is the doctor of choice for many established accounts throughout the area. She is both efficient, thorough and proficient in her assessment for our hiring practices and requirements. In addition, we turn to her for her treatment of our employees who have had any job-related injuries."
Harold T., Human Resource Director
Teak Decking


"I have been a patient of Sarasota Chiropractic Centre since approximately 1982. I have been treated for neck, back and knee problems, and many times, over the years, my problems have been very severe. Before Dr. Bob retired both he and Dr. Kim have relieved my pain and suffering with adjustments and therapy. Upon his retirement six years ago, I have been in the total care of Dr. Kim, and the compassion and professional care I have received has gotten me through many rough stages of my life. Dr. Walters and staff are in my daily prayers and I want to express my thanks and gratitude to all of them for their help and love. You are all in my heart."
Bonnie Q., Sarasota, FL


"I have known Dr. Kim since, fresh from Pittsburgh, she entered my elementary school class here in Sarasota. At the time I didn't know we would have a future doctor-patient relationship, but when I had back problems 15 years ago, seeing her name as chiropractor, I didn't think twice about calling her. At that time she helped alleviate my pain, and I hadn't returned for help until recently. When I went for treatment this time, I had back pain to the point of, when it hit, I would have to stop and wait for a certain amount of pain to subside just to continue moving. Dr. Kim performed adjustments, and combined with accompanying strategies, completely alleviated my pain. Dr. Kim always explains the hows and whys of what she is doing and what hopefully to expect. In my case, I am free of back pain and actually have needed no further treatment for this (six months at the time of writing). My wife, who has fibromyalgia, was examined recently by Dr. Kim. Under her direction, my wife has been following a program of therapeutic massage and ultrasound provided by Dr. Kim's caring staff who are sensitive to her special needs. The massages not only sooth her pain at the time but also work muscles that she is not able to exercise on her own which gives her a feeling of well-being. We would like to thank Dr. Kim and all of her staff for helping us and making us feel like part of the family."
Jay and Peggy Ulman


"Dear Dr. Walters:
It has been a very, very long "Journey through Pain" for me. Many times during that "journey" I had some doubts, but you were there for me. I simply would not have made it without you.
Ironically, with all the doctors that I have seen over a period of six months, the only health-care provider that has given me the most help has been the Sarasota Chiropractic Centre. Every single member of the staff, starting with you, are truly dedicated to helping all who come through the door – all are knowledgeable and go out of their way to help a patient feel better. You have taken me out of the darkness of pain into the light of hope – all because of your outstanding work! For the very first time in six months – I feel "Alive" again – what a fantastic feeling!
I will continue on the maintenance program per our discussion. Personally, I am a firm believer in "Preventive Health Care" – sure beats the alternative!
I am but one of a legion of patients that you have helped through their individual journeys. May I join then in unison and greatly say "Thank You"!
In Deep Appreciation
Kenneth C. Porter


"My name is Debbie and my family (husband and now teen age daughter) and I have been seeing Dr. Walters for the last 5 years. We think she and the entire staff at Sarasota Chiropractic are just wonderful, they make you feel like part of their family. Two years ago when my mother in law moved from Virginia to Florida she too became a patient at Sarasota Chiropractic and loves them as well. Before coming to Sarasota Chiropractic I had tried two other doctors and they were not quiet the right fit, but Dr. Kim's office is just that perfect fit. I would recommend this office to any one and do recommend it to all my friends when they ask about chiropractic. There's no down side to these ladies…"
Dave and Debbie Fulton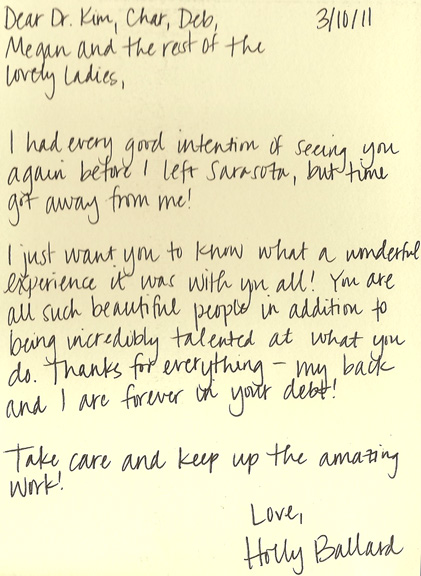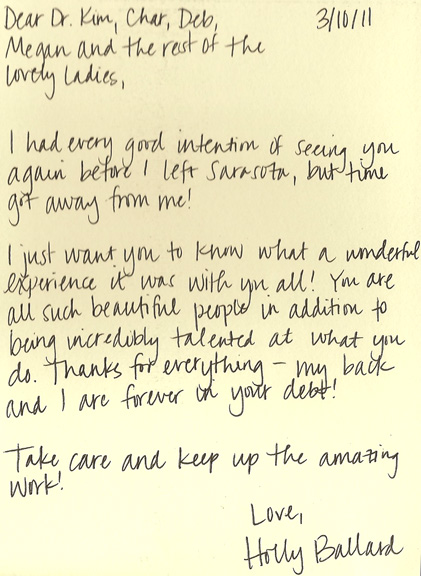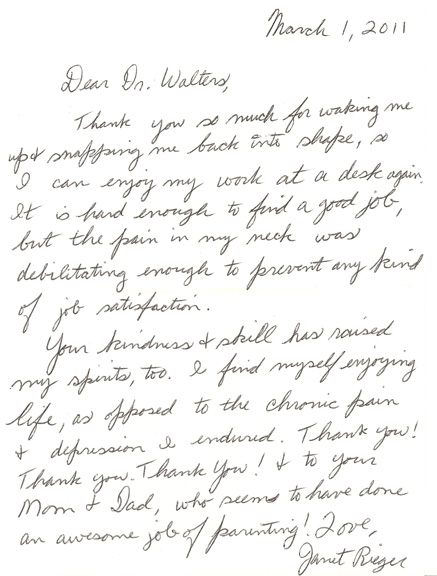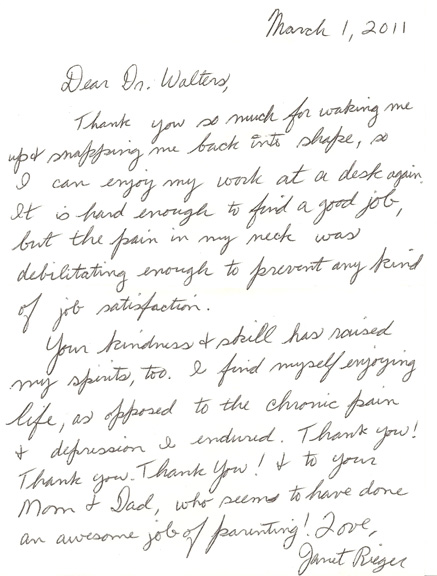 Dear Dr. Walters:
Two weeks ago I left Northern Minnesota on an arduous, painful drive to Sarasota due to an injury sustained while splitting firewood the old-fashioned way. My back hurt terribly despite five chiropractic sessions there. I decided you were my last resort to a retirement without golf and the other physical activities I enjoy.
It was a long 2000 miles. Now, eleven days and five treatments later, I am back to normal and looking forward to a happier future. Thank you Dr. Kim for the treatments of massages, electric stimuli, heat and adjustments. You and your staff did wonders for me.
Gratefully,
Bob Rowe
Siesta Key, FL
Reader's Choice Award
Best Chiropractor in Sarasota
FIRST PLACE Four Years in a Row
2015 to 2018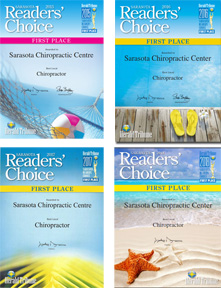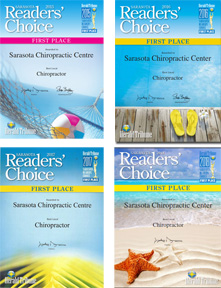 Dr. Walters has extensive experience in treating automobile accident victims, workers compensation injuries, slip and fall accidents, and sports injuries. Dr. Walters also has a large network of health care professionals that she has worked with over the past 25 years in Sarasota.  She believes firmly in seeing that the patient receives the care they need.
Please don't hesitate to call us at 941-922-2000 for an appointment
with Dr. Kim Walters and find out whether chiropractic treatment could
help improve your health and wellness!