What to expect on
your first visit.
Firstly, at Sarasota Chiropractic Centre you can expect us to value your trust, respect and honor your appointment time, answer your questions, explain the admission forms thoroughly, and most importantly, make you feel welcome and comfortable.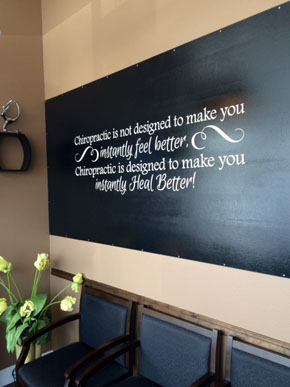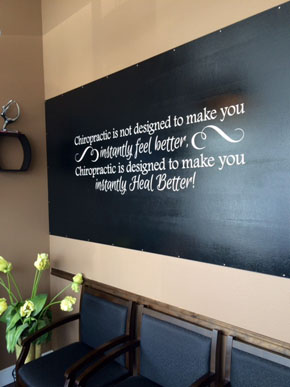 Secondly, you will meet with the doctor who will check on your vitals, start a case history, and conduct a personal consultation. Dr. Walters will review your medical history, and conduct a chiropractic/orthopedic and neurological examination. If x-rays are deemed necessary, they will be ordered. After receiving films, the Doctor will make her recommendations regarding any physical therapy that will be beneficial to your condition. On your follow-up visit, Dr. Kim will review your x-ray findings and then chart a treatment plan which will best address your condition. This may include a spinal manipulation coupled with therapies such as muscle stimulation, ultrasound and/or therapeutic manual massage. She will evaluate your prognosis and outline a treatment plan especially for you.
Once we have completed your initial treatments and achieved your health objectives, we will educate and inform you on the importance of periodic "preventative care". We encourage our patients to be pro-active in their health care and respect and understand the benefits of regular check-ups.
Avoid the pain and expense of crises care. Be proactive with regular wellness care, and remember that rest, exercise, and proper nutrition will help you achieve optimum health. Choose to be well, and enjoy life 100% of your potential.

See and experience a visit through the eyes of a patient…
Chiropractic Care with Hospitality Flair
When was the last time you took a moment to contemplate the magnitude of one life, one body, one chance…
We all like to pamper ourselves right? Shopping spree, spa, and dinner with friends… easy to justify and always time put aside… Well what about investing in pure self indulgence – your very own wellness break?
I know Doctors are for sick people right? But this is about your wellness and not just cure. Take it from someone who had little belief it was necessary and most certainly did not afford themselves the time or luxury.
I'll call it my "Journey to Wellness" and encourage everyone to make the trip.
Your healing journey begins with a warm greeting from the effervescent Char, your patient administrator. Always at the ready and quick to size up your state of well-being she elegantly administers a warm compliment or anecdote on the week that was.
Now take a seat, relax quietly or maybe catch up with some regular faces from your wellness family. Oh and by the way arrive on time as this is no traditional waiting room, they respect your schedule and delays are rare; driven only by a commitment to patient care and empathy that is never compromised and that you too will benefit from.
No sooner do you settle in when your journey to wellness continues as Dr. Kim's assistant quietly appears welcoming you by name (first ones only here) and ushers you down the corridor to your treatment room. With a gracious smile and gentle tone she assesses your comfort level as she quickly administers a warm heat pad to soothe both body and soul.
With the solace of knowing what it is that's ahead it is easy to relax with a magazine and await the main attraction.
Dr Kim (affectionately known to all) will bound in with a caring smile and welcome that is custom made for you. The art of listening is half the healing and this part is a given. As she effortlessly coerces information through what seems like personal inquiry it is not long before today's prognosis is established and the last segment of your wellness journey begins. With gentle hands and reassuring words it all seems so effortless and before you know it you are on your feet and on your way as Dr Kim ushers you back to where it all began (compare this feature to your typical doctor visit).
Now all good things must end but not before one last checkpoint in the wellness process and a final word from Char. "You look much better" or "I can see that helped a lot" she offers warmly as she confirms the next time Dr. Kim would like to see you.
So there you have it a journey to wellness through the eyes of someone who would like to pay it forward.
Trevor Hind, Sarasota, Florida
Please don't hesitate to call us at 941-922-2000 for an appointment
with Dr. Kim Walters and find out whether chiropractic treatment could
help improve your health and wellness!